Bacterial Filtration Efficiency of Different Masks
Keywords:
bacterial filtration efficiency, face coverings, masks, respirators, Andersen Cascade Impactor, EN 14683:2019
Abstract
Face coverings, such as surgical masks and respirators, have an important role in preventing bacterial and viral transmission, especially during a global pandemic like COVID-19. Therefore, to secure their availability, new manufacturers and the use of novel materials must be encouraged. However, masks and their materials must first be properly tested for safety and efficiency, as required by the relevant standard, valid in a specific region. All standards prescribe determination of the bacterial filtration efficiency (BFE) of masks. In this study, we report the establishment of a test method for the BFE of face masks in accordance with European standard EN 14683:2019, by which we tested 52 samples, each composed of 3 to 5 subsamples, of surgical and cloth masks, respirators, filters, and mask materials. Forty-seven out of the 52 samples reached a BFE above 75 %. Of these, 16 samples had a BFE of 75 % to 95 %, 3 had a BFE of 95 % to 98 %, while 28 reached a filtration efficiency above 98 %. Our findings show that all tested samples provided some level of protection, most of which met the requirements for the national or European market.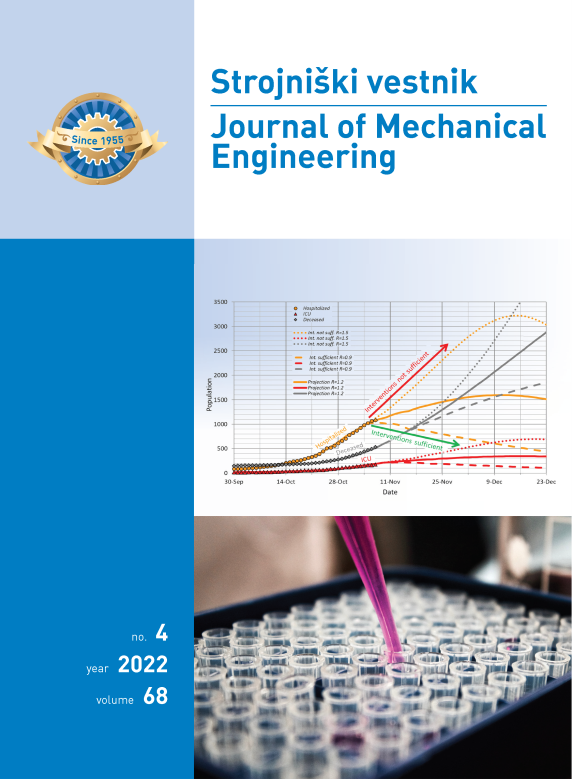 Downloads
Additional Files
How to Cite
Košir, T., Fric, K., Filipić, A., & Kogovšek, P. (2022). Bacterial Filtration Efficiency of Different Masks. Strojniški Vestnik - Journal of Mechanical Engineering, 68(4), 225–232. https://doi.org/10.5545/sv-jme.2022.34
License
Copyright (c) 2022 The Authors
This work is licensed under a Creative Commons Attribution 4.0 International License.